How To Prepare For a Professional California House Repiping
Repiping your home is an important investment when the time is right. However, a home repipe only needs to take place every couple of decades or so, and many people don't have experience with the process as a result. Repiping can seem like a big, intimidating job, and some people may put it off as a result, leading to unnecessary repairs and other problems.
Learning about the process can help you feel better about what to expect, as well as to make more informed choices when you are hiring your San Diego repiping plumber. Here's everything you need to know in preparation for a home repipe:
Getting The House Ready For The Repipe Specialist
To access your pipes, your Oceanside repiping plumber is going to have to cut through your drywall and other wall materials (such as wood paneling or tile). That is going to create a lot of dust and other debris. You will need to cover your furniture and other items around the area to keep them from getting coated.
You will also need to remove any items from the areas under your sinks, such as cleaners from under the kitchen sink and personal care items from the bathroom sink. Make it a clear space for the plumbers to do their work.
You will likely need a permit for your repipe. If that is the case, your repiping plumber will take care of securing the permit (and that cost will be included in the overall cost of the job).
Performing The Repipe
To start your repipe, the Orange repiping plumber will turn off your water. The old pipes will be removed, and the new pipes will be installed, and then the water will be turned back on. Many people think that because repiping is such a big job, it will take a long time to complete, and that they won't have water the whole time. The truth is that most repipe jobs take under a day to complete, and if it takes longer, the plumber will make sure that the water will be ready to use at the end of each day.
Your repiping plumber will give you an overview of the repiping process, including which rooms will be affected. You'll know, for example, if the plumber has to go through the walls in your bedroom because it's easier to get to the plumbing from there instead of through the kitchen.
Drywall Repair & Clean-Up
Once all the new pipes have been installed and the water has been turned back on, your plumber will clean up any debris that remains and will repair the drywall that was cut. Your walls should look like they did when your plumber first entered – maybe a bit better since the paint will be fresher.
The final step for the repipe will be to test the water pressure and to flush it out. When the plumber is done, your home should look the same, and your plumbing should work better than ever.
It is essential that you repipe your home when your plumbing system starts to age out, but before it starts to have problems. Waiting until your plumbing system fails can lead to extensive damage to your home and thousands in repairs. Be proactive, and work with a repiping plumber to assess your home and determine when the time is right to perform a repipe. Then choose the right materials to give you the best performance over the longest lifespan. Your plumber will be able to recommend the best options based on the size and layout of your home and other factors.
Hire a Qualified Repiping Plumber In San Diego
Contact Integrity Repipe in California today to learn more about your options for repiping. We handle all types of repiping, but our plumbers are specialists in PEX repiping. PEX is a cutting-edge material that is resistant to corrosion, won't become clogged with sediment, is low-maintenance, and will last your whole lifetime. PEX is easier to install than traditional plumbing, as well, since it doesn't require the same amount of couplings and connections. Contact us today to schedule an inspection and consultation with a repiping plumber to learn whether your home is ready for a repipe and what type of piping would offer you the most benefits.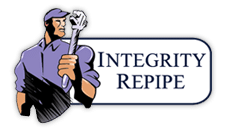 Published by – Integrity Repipe Inc
Integrity Repipe Inc – San Clemente, CA
927 Calle Negocio Suite O
San Clemente, CA 92673
Phone: 949-397-2404
Website: integrityrepipe.com/san-clemente
Integrity Repipe Inc – Long Beach, CA
2201 N Lakewood Blvd, Ste D #297
Long Beach, CA 90815
Phone: 562-362-5040
Website: integrityrepipe.com/long-beach
Integrity Repipe Inc – Chula Vista, CA
591 Telegraph Canyon Road
Chula Vista, CA 91910
Phone: 619-313-5744
Website: integrityrepipe.com/chula-vista
Integrity Repipe Inc – Ladera Ranch, CA
27762 Antonio Parkway L1
Ladera Ranch, CA 92694
Phone: 949-397-2795
Website: integrityrepipe.com/ladera-ranch
Integrity Repipe Inc – Lakeside, CA
8337 Winter Gardens Boulevard
Lakeside, CA 92040
Phone: 619-494-3507
Website: integrityrepipe.com/lakeside
Integrity Repipe Inc – Aliso Viejo, CA
27068 La Paz Rd #771
Aliso Viejo, CA 92656
Phone: 949-449-1142
Website: integrityrepiping.com/aliso-viejo-repipe-copper-pex-ca
Integrity Repipe Inc – Oceanside, CA
1759 Oceanside Blvd C,
Oceanside, CA 92054
Phone: 442-300-3057
Website: integrityrepiping.com/oceanside-repipe-copper-pex
Integrity Repipe Inc – Porter Ranch, CA
19360 Rinaldi
Porter Ranch, CA 91326
Phone: 818-630-9265
Website: integrityrepiping.com/porter-ranch/